General Rules:


All uniform shirts are required to have the updated logo shown below beginning in the 2019-20 school year.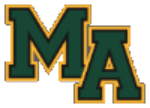 All Manchester Academy students in grades 5K-12th grade must wear school uniforms. The dress code is YOUR responsibility.
The dress code is strictly enforced. Any infringement of the uniform dress code will result in the student being provided with a proper uniform to wear.
Continued infraction of the dress code will result in action taken will be at the discretion of the principal and headmaster.
Uniforms must be purchase from Dennis Uniforms and/or Maverick Merchandise Store. Dennis Uniforms may be accessed for online ordering by using the following link: https://www.dennisuniform.com/schools/MSMANC

Address:
Dennis Uniform
2001 Airport Road
Flowood, MS 39232
Phone: (601)501-6091

a. Wednesday is a DRESS DAY, and the required uniform will be worn every Wednesday.
b. All MA students will wear monogrammed collared shirts Monday-Thursday. In addition, collared shirts must be worn under sweatshirts/hoody sweatshirts and jackets.
c. MA T-shirts for Fridays for ALL students with uniform bottoms. If a student does not comply with this point, he/she will not be allowed to participate in Friday MA T-shirt day and will be required to wear regular uniform the remainder of school.
d. All shirts must be tucked in except girls' shirts over blouses. (2-12)
e. Belts must be worn with all items with belt loops.
f. Students will be required to wear uniforms on all field trips unless the teacher has received prior approval from administration for alternative dress.
g. All sweaters, shirts, coats, and jackets must be monogrammed.
h. Please label all clothes.
i. All boys may wear khaki pants/shorts—no khaki green (no Cargo pants/shorts).
j. Girls wear white camisoles under white blouses.
k. Girls must button at least 2 buttons of all tops.
l. No pins or long necklaces are to be worn on blouses. (5K-12)
m. Collared shirts on Mondays through Thursdays.
n. Dri-Fit shirts may be worn if it has MA on it with a collar (Football players may wear jersey shirts with jeans for Jr. High on Thursday pep rally days and for High School on Friday pep rally days).
o. Skirt and skort length is NO MORE THAN 4" ABOVE THE CREASE BEHIND THE KNEE. (5K-12)
p. Girls may wear the plaid/khaki walking shorts that are offered by Dennis Uniforms. ONLY THESE SHORTS ARE ALLOWED. Shorts hems must be worn as is from Dennis Uniforms. Shorts may NOT be hemmed shorter, cuffed, or rolled up (from the hem or the waistband).
q. Outerwear is not required but, if worn, must be monogrammed. If students wear any other type of outerwear, it must be removed before first period class. Otherwise, teachers will confiscate the outerwear until the end of the school day. Repeated reprimands for incorrect outwear will result in discipline referral to the principal.
r. Dress up/down days for certain themed days will be determined by administration and announced to the student body in advance.
Specific Rules/Days

I. Dress Code for Monday, Tuesday, Thursday:

Boys (5K-12th grade)
i. Polo Shirts: monogram white, yellow, green, gray or black.
ii. Pants/Shorts: The correct color Khaki. No cargo pants/shorts or green khaki color.

Girls (5K-12th grade)
i. Polo Shirts: monogram green, yellow, gray, or black
ii. White monogram blouse (5k-6th grade girls only)
iii. Khaki/Plaid-skirts, shorts, skort, or pants

II. Wednesday is Dress Day:

i. All students 5K-11 must wear Wednesday uniform for school day pictures.
ii. Students may not wear a jacket, sweatshirt, hoodie, or outer covering in the photo.
iii. Headbands must be neutral: white, green, gray, black, navy blue.

III. Elementary:

Boys (5k-6th grade)
i. Dark green shirt and khaki shorts or pants.
ii. No sandals, flip flops, or slippers. Boots with pants only.

Girls (5K-3rd grade)
i. Plaid jumper with monogram blouse or Plaid dress.

Girls (4th-6th grade)–Plaid skirt and white monogram blouse

i. No sandals, flip flops, slippers, cowboy boots, or rain boots.


IV. 7-12 Boys

August-September - boys may wear shorts with dark green short-sleeved polo uniform shirt, blue pinstripe shirt or themonogrammed blue check from Dennis Uniforms with the updated logo (see image above or below).
If shorts are worn, boys may wear tennis shoes on Wednesday.
November 1st – March (until spring break) -- boys must wear pants with long-sleeved blue pinstripe shirt or the monogramed blue check from Dennis Uniforms Shirt must be monogrammed with updated logo (see image above or below).
After spring break, boys may once again wear shorts on Wednesday dress day.
Belt
Socks
Any monogram jacket is permissible
YELLOW SHIRTS are no longer acceptable to wear on Wednesday.

V. 7-12 Girls

White monogrammed blouse
Plaid skirt from Dennis Uniforms
No pants/shorts/skorts on dress day
No hooded sweat shirts or sweat shirts on dress day
Girls may wear leggings in neutral colors - no lace, no stripes.
Headbands must also be in neutral colors: white, green, gray, black, or navy blue.

VI. Dress Code for Fridays (5K-12):

On Fridays, student may wear the white or light blue Maverick t-shirt with uniform bottoms.
Friday Maverick t-shirts are on sale in the Maverick Merchandise Store.
Students choosing NOT to wear the Friday Maverick T-shirt must wear regular uniforms.
School wide-DRESS DOWN DAY will be the last Friday of every month. Students may wear any Manchester t-shirt and jeans or uniform bottoms.
Girls may not wear shorts that are not uniform shorts.
No holes in the jeans and no sports shorts with elastic waistbands or nike or sophie shorts.
Boys may not wear jeans with holes or athletic shorts.

VII. Shoes -All shoes must be in conservative colors.

Girls' shoes (5K-12th)
Rain boots (on weather appropriate days) or riding boots with less than a one-inch heel –
no cowboy boots, flip flops, slippers, or toe shoes (Skele) on any day.
Chacos and Uggs may be worn on any day.
Birkenstock-type shoes are acceptable in brown, black, or navy. Any type of Birkenstock MUST have a STRAP on the back.
Low quarter athletic shoes are allowed
Flat heels only (exception – Mary Jane style with no more than a 2-inch heel).

Boys' shoes- (5k-12)
No sandals, flip flops, or slippers on any day
Chacos in any color may be worn
Boots with slacks only (must be clean boots, and pants cannot be tucked in)
Low-quarter athletic shoes. Dress shoes, Wallaby,
Birkenstock- MUST have STRAP on the back-any

VII. STUDENT APPEARANCE

No visible body piercings allowed (exception: girls with pierced ears.)
Males may NOT have earrings, pierced or otherwise.
Males may NOT have fingernail polish or make-up on their face.
Males' facial hair must be clean-shaven. If a student needs to shave, a razor will be available through the principal's office, and he will have to shave at school.
Males must have suitable haircuts that do not touch the collar in the back or cover the eyebrows in the front.
No visible tattoos allowed. Any student with tattoos must keep them covered at ALL times during school and/or school activities (on or off campus).
Hats, bandannas, or sweatbands are not allowed on campus during school hours.
Sunglasses may NOT be worn in class. In addition, sunglasses may NOT be worn around the neck.
Hairstyles or hair color that would draw attention or create a distraction are not allowed. Examples of hair color are bright reds, purple, etc.
At no time is a student to wear house slippers or moccasins during school hours, even in neutral colors. All footwear must follow the guideline stated above.
No holes in any clothing – this includes dress-down days (especially for jeans).
Students must wear their uniforms on Field Trip events
*The administration of Manchester Academy reserves the right to adjust this policy and make decisions on future modes of dress not outlined in the dress code that would distract from the educational process or draw attention to it.*