Originating in 1969, Manchester Academy has been serving Yazoo City and the surrounding area for the educational needs of its children. Through the diligent and unselfish efforts of many patrons and faculty members, the school has grown to a 16-acre campus that serves approximately 420 students in grades 2K through 12.

While the first priority of MA is to educate the students, the school offers a variety of scholastic and extra-curricular activities in the hopes that our students will reach their maximum potential. Manchester Academy provides a safe, secure, and Christian learning environment, which develops its students spiritually, morally, academically, physically, and socially.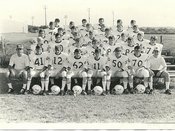 Manchester Academy`s 1st football team. 1970.